ExtractAlpha has been named the Best Alternative Data Provider to the Buy Side in WatersTechnology's Buy Side Technology Awards, 2023.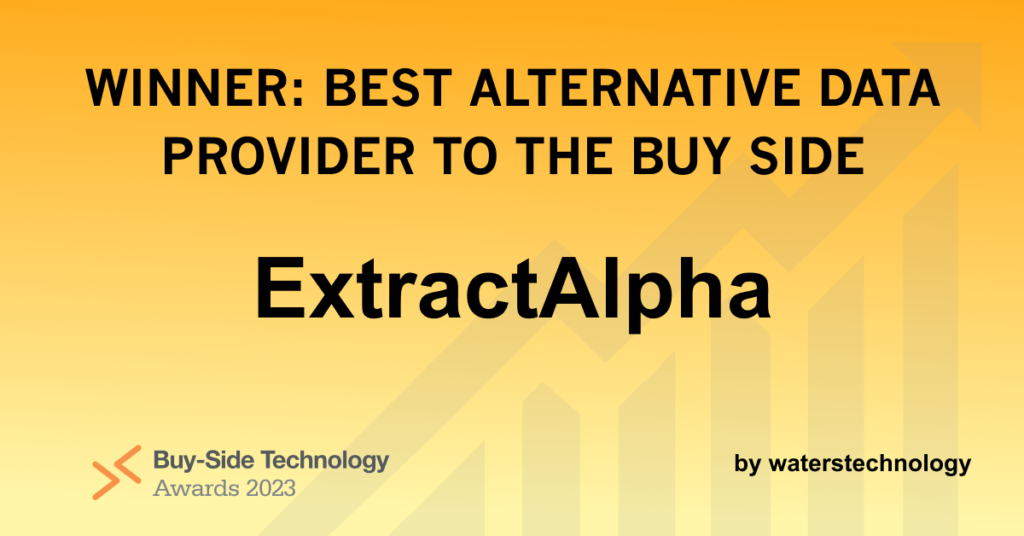 This win provides recognition for ExtractAlpha's innovative approach to alternative data, and its dedication to creating unique, actionable, predictive alpha signals for institutional investors.
ExtractAlpha applies their extensive experience in quantitative analysis and the design of investment analytics products to new data sets. Rigorously built quantitative signals help their clients gain a measurable edge over their competitors.
"We are honored to be recognized by WatersTechnology as the Best Alternative Data Provider," said Vinesh Jha, CEO of ExtractAlpha. "This award is a testament to the hard work and dedication of our team, and it reinforces our commitment to providing our clients with the highest quality actionable alternative data and services."
ExtractAlpha has a proven track record of success, and its data has been used by many financial institutions over the past 10 years to improve their investment performance. The company currently has 15+ alternative data signals available, and it is constantly adding new signals to its library.
"We are excited to be at the forefront of the alternative data industry," said Vinesh. "We believe that alternative data has the potential to revolutionize the way that investment decisions are made, and we are committed to providing our clients with the tools they need to succeed in this rapidly evolving market."

For more information or to schedule a call, please fill out this form.