China A Shares News Sentiment Data
Although news sentiment is widely acknowledged as a short-horizon alpha, our research suggests news sentiment is predictive of returns even at longer horizons in the China A share market, possibly due to strong participation from retail & HNW investors in Chinese markets.
The signal we backtest is a combination of both news sentiment and volume, derived by applying Natural Language Processing (NLP) on 30,000+ Chinese Mandarin news reports from local media every day.  Although news sentiment and volume is available for over 80% of the China A share market going back to 2016, our backtest is restricted to CSI 300 constituents only, as shorting individual stocks beyond the CSI 300 is unrealistic for many investors.  
Firstly, the signal is predictive of both returns and alpha; average annualized net return and alpha increases with signal strength and is monotonic across quintiles.  Secondly, we find that the signal's information coefficient is positively correlated to holding periods of up to 90 days.  Therefore in backtesting, we choose to rebalance bi-monthly (60 days) which provides the best tradeoff between signal strength and turnover (and transaction costs).  A 60-day rebalanced dollar-neutral portfolio (long/short top/bottom quintile) generates an annualized net return of 18.5% with a Sharpe ratio of 1.62 and Beta of +0.11 from 2016 to 20210813.  After removing factor tilts from the signal, it still produces a long/short net return of 8.9% with a Sharpe ratio of 1.06 and Beta of +0.04.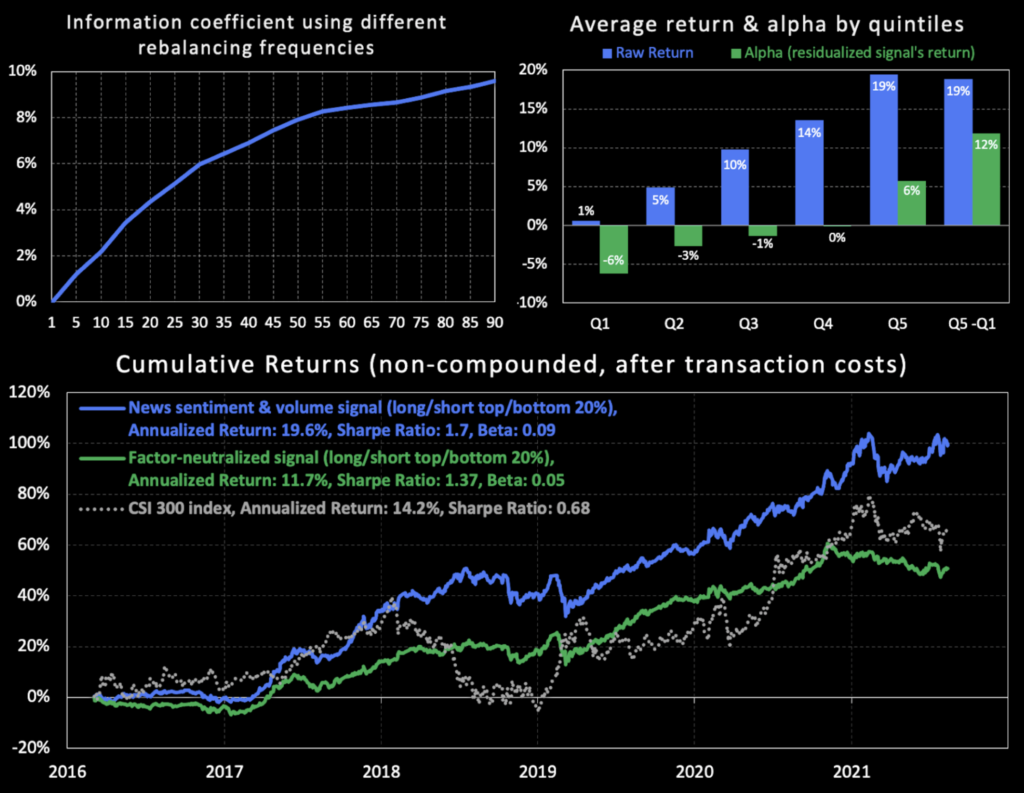 © 2023 ExtractAlpha Research. The Information is not investment advice and does not constitute any offer or solicitation for the purchase of any securities. Investment involves risk. Past performance is not indicative of future performance.
ExtractAlpha is an independent research firm dedicated to providing unique, curated, actionable datasets to institutional investors. ExtractAlpha applies their extensive experience in quantitative analysis and the design of investment analytics products to interesting new datasets and tools. Their rigorously built quantitative models are designed for institutional investors to gain a measurable edge over their competitors. ExtractAlpha also partners with top fintech data firms to identify investment value in their datasets and help investors profit from these unique new sources of information. ExtractAlpha's founding team held senior positions in StarMine's original research and sales teams and at top quant funds including PDT.