Innovation Model is a unique, long-horizon stock selection model quantifying innovation intensity of US stocks using two of our in-house datasets from the ExtractAlpha ESGEvents Library patents and foreign worker visas. The score is a composite of both stock-level and industry-level innovation intensity. Using this score, a portfolio that goes long the most innovative firms and short the least innovative ones can generate economically significant returns with low turnover; these returns do not appear to be fully explained by risk factors. The predictive power of returns from the data on foreign worker visas is more powerful than that of patents data. In recent years, returns have also become increasingly driven by the stock-level innovation score as opposed to the industry-level innovation score.
In historical backtests, highest scoring stocks (top decile) according to the Innovation Model outperformed the lowest scoring stocks (bottom decile) by 6.3% per annum with a Sharpe ratio of 0.44 since 2003. Implementations of the model can be further enhanced, such as by residualizing for our 7 equity risk factors, this portfolio returned 7.9% (+0.5%). In recent years (20170101-20210514), returns were stronger at 16.4% annually with a Sharpe ratio of 0.98.
Additionally, a long only portfolio (top decile) returned 19.6% since 2003. Performance after transaction costs are similar in all scenarios, as average daily turnover since 2003 is only 2% per decile.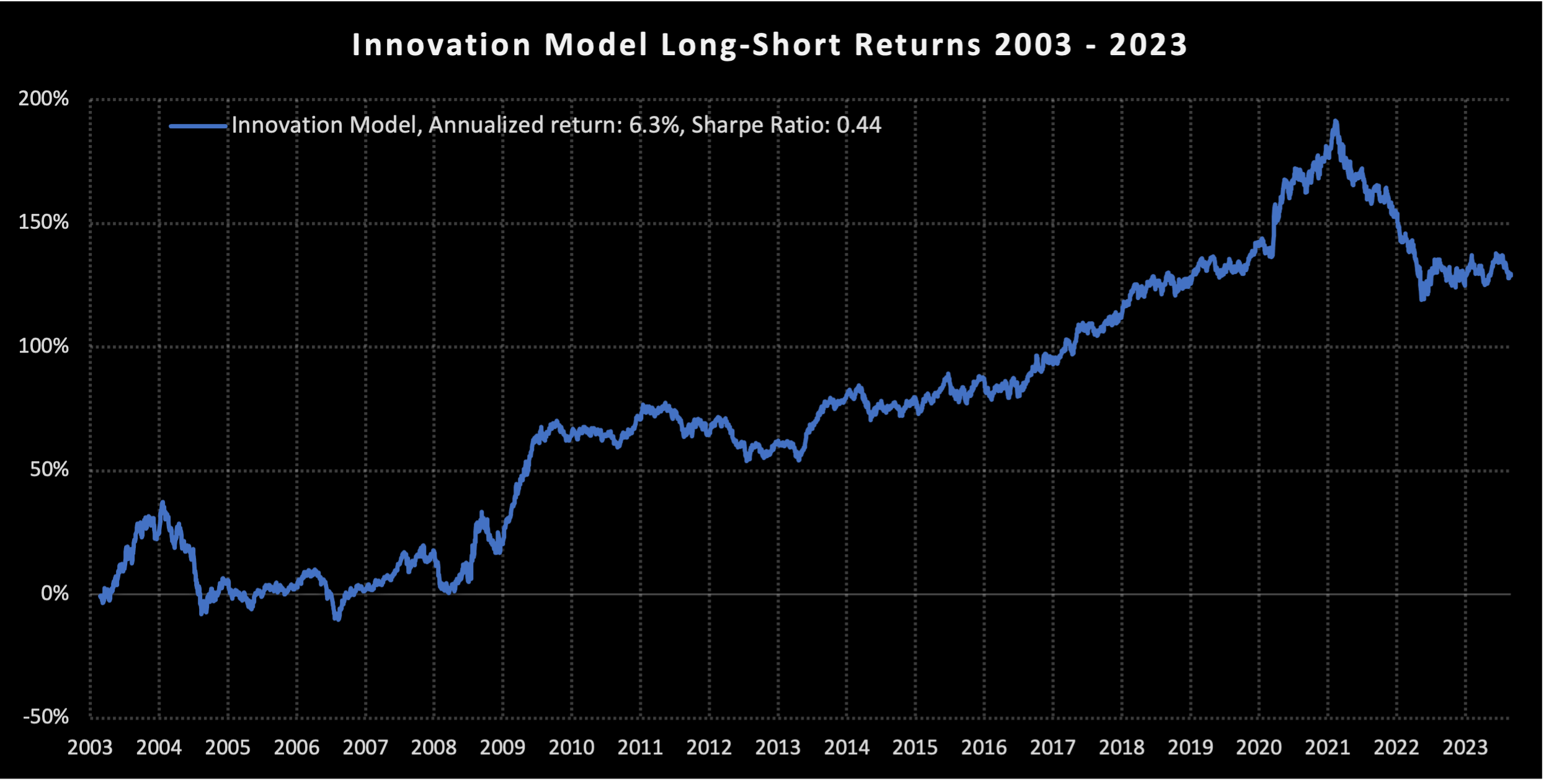 © 2023 ExtractAlpha.
ExtractAlpha is dedicated to providing unique, curated, actionable datasets to institutional investors. ExtractAlpha applies extensive experience in quantitative analysis to alternative datasets. Rigorously built quantitative models are designed for institutional investors to gain a measurable edge over their competitors. ExtractAlpha's founding team held senior positions at StarMine, Morgan Stanley PDT, AlphaSense, FactSet, and Multex.