Equally-weighted consensus earnings estimates derived from sell side forecasts are still widely used in financial applications. ExtractAlpha's TrueBeats EPS and revenue surprise predictions outperform consensus models by incorporating the track record and timeliness of the contributing analysts, along with other significant sources of information about a company's likelihood to beat or miss expectations, such as metrics of earnings management and time-series trends.  Our forecasts are consistently more accurate than the consensus, predicting surprises up to 80% of the time.
ExtractAlpha has partnered with Exabel to create the Intelligence Engine, which is a web app designed for discretionary fund managers and analysts to seamlessly integrate TrueBeats predictions into their workflows.  
Users can track our surprise predictions versus the consensus as earnings dates approach, track how accurate TrueBeats have been on each name, dive deeper into time series trends of earnings, and even design and monitor backtesting strategies using TrueBeats and other factors over a custom universe.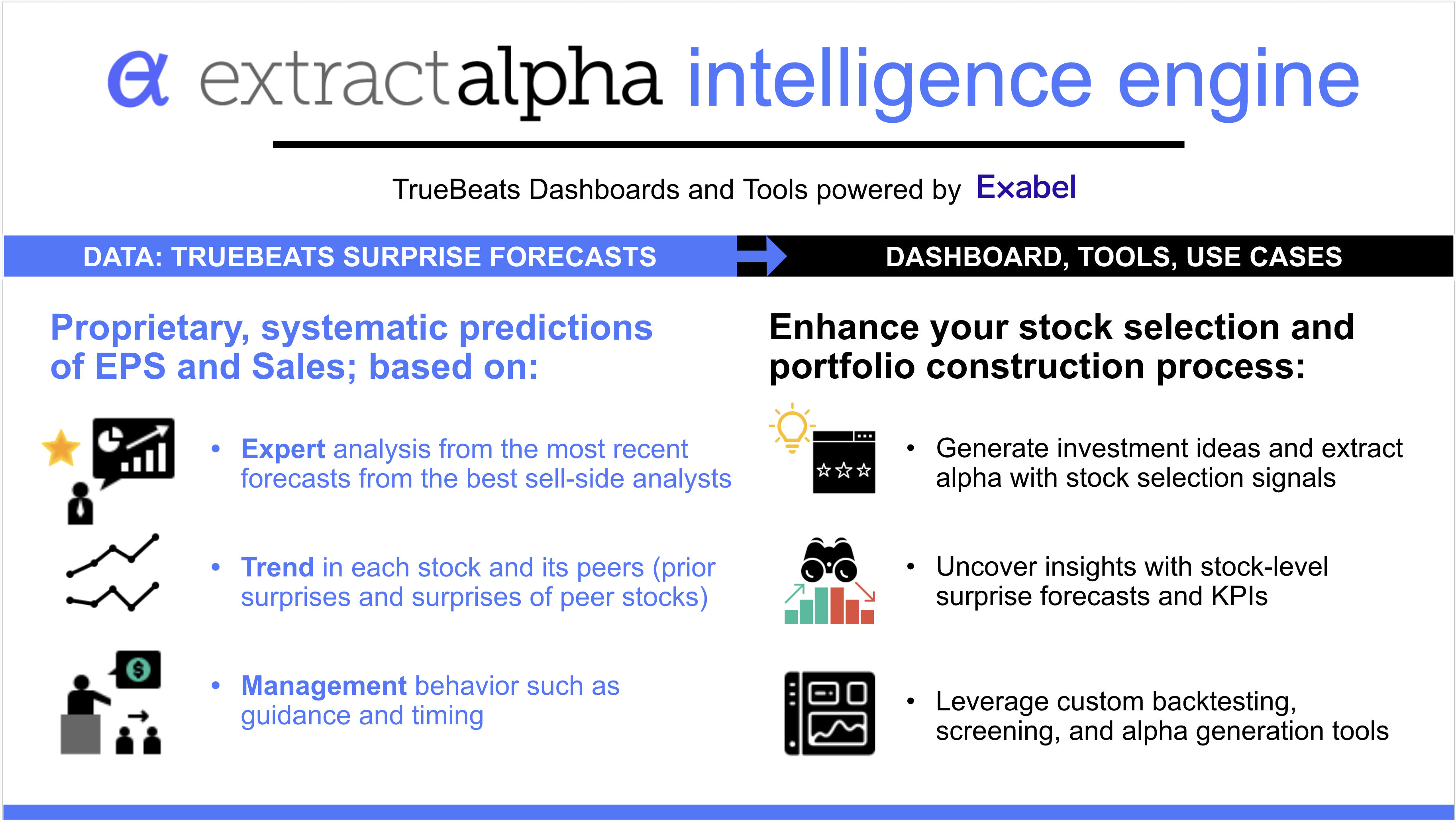 © 2023 ExtractAlpha Research. The Information is not investment advice and does not constitute any offer or solicitation for the purchase of any securities. Investment involves risk. Past performance is not indicative of future performance.
ExtractAlpha is an independent research firm dedicated to providing unique, curated, actionable datasets to institutional investors. ExtractAlpha applies their extensive experience in quantitative analysis and the design of investment analytics products to interesting new datasets and tools. Their rigorously built quantitative models are designed for institutional investors to gain a measurable edge over their competitors. ExtractAlpha also partners with top fintech data firms to identify investment value in their datasets and help investors profit from these unique new sources of information. ExtractAlpha's founding team held senior positions in StarMine's original research and sales teams and at top quant funds including PDT.