I have been fortunate to have been involved in several stages of the development of the use of analyst forecasts in investment management. As the head of quantitative research at StarMine during its launch in the late 1990s, it represented – along with other early firms in the space such as the DAIS Group and Zacks – an evolutionary step in leveraging the sell side analyst data which was first collected in the 1970s to create more intelligent, forward-looking estimate models.

At ExtractAlpha, we have developed our own next-generation earnings surprise prediction model, TrueBeats, which leverages this same information in a more sophisticated way to create a forecast which is superior to those which came before.

When I first came across Estimize eight years ago, I recognized it as a revolutionary crowdsourcing platform which democratized the collection and dissemination of financial forecasts; I met Leigh Drogen, Estimize's founder, soon thereafter, came on as an advisor, and have watched the offering mature over the years into a rich and innovative platform for forecasting.
– Vinesh Jha, ExtractAlpha CEO & founder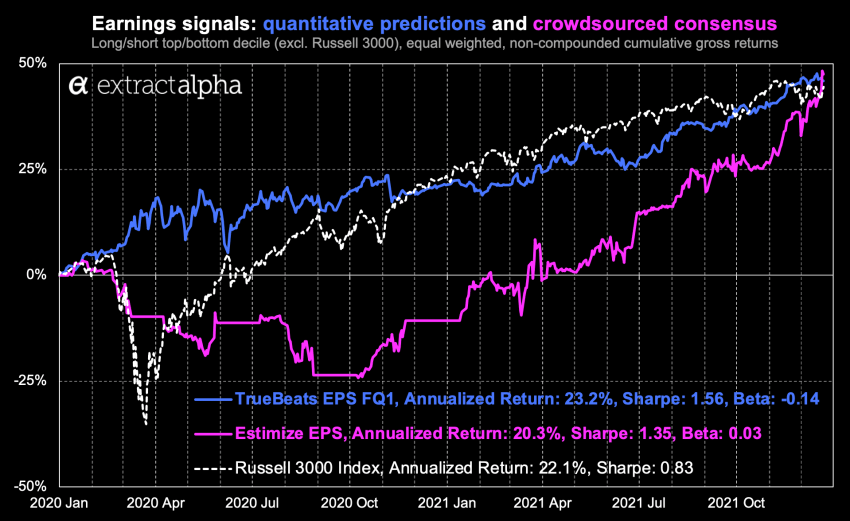 Today we're pleased to announce that our alternative data and quant research firm, ExtractAlpha, is merging with Estimize.  Vinesh Jha will be CEO of the combined entity and Leigh Drogen will transition to an advisory role.
The services of both companies will continue uninterrupted, and we will be leveraging the strengths of each company – Estimize's strong community and unique dataset, and ExtractAlpha's research and sales expertise – to reach new customers and create exciting new product offerings.
Thank you to our clients, partners, and teams for your support over the years. We are excited to see what this new chapter will bring!
TrueBeats EPS & Revenue surprise forecasts by ExtractAlpha:
TrueBeats uses 3 components to forecast EPS & Revenue surprises with up to 90% accuracy:  (for stocks with at least +/-10% predicted surprise & coverage by >14 analysts)
Experts

 – More weight on the most recent estimates from the most accurate analysts

Trend 

– Has the stock been beating estimates? How about its peers?

Management 

– Does management activity (such as guidance and changing of the earnings release date) suggest a beat or miss?
(available for 
3,500+ U.S. stocks
 every day)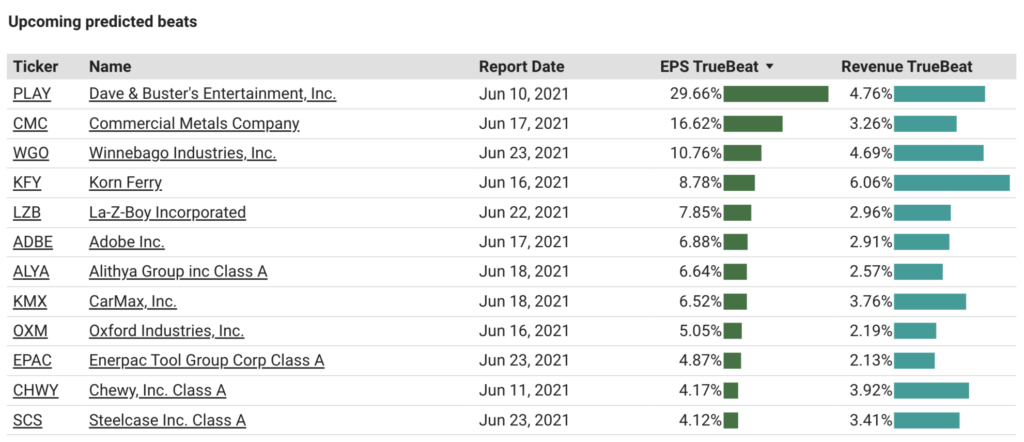 TrueBeats: single stock analytics dashboard

Estimize crowdsourced financial estimates:
Crowdsourced estimates that are more accurate and representative of the market's true consensus, collected from over 111615 contributors via our web platform; not subject to the biases and structural limitations of traditional sell-side estimates.